Are you considering 50th birthday trip ideas for your huge 50th milestone? It's a time to celebrate life and family and reflect on all you've accomplished. Taking a vacation at one of the many Costa Rica Beachfront Villas should be at the top of your list. It isn't every day that someone turns 50, so make this birthday extra special. As the big five-zero approaches, it is easy to get overwhelmed trying to decide how to make it the most unforgettable birthday ever. After asking yourself "what are some of the best 50th birthday vacation ideas?" and "who should I invite?" you'll be better equipped to make a decision about your plans.
Benefits of going on a tropical vacation vs throwing a birthday party include:
Vacations last longer than a party
You'll bond with friends and family
Everyone will have much more vacation memories than they ever would at a party
At 50 years of age, the last thing you need is more gifts, stuff you probably already have
If you have already considered a 50th birthday trip idea in the US and decided you want a real tropical vacation, what better way to commemorate this special event than going on a perfect birthday trip with close friends and family, including your children and grandkids, to vacation with you at a Costa Rica beachfront villa? If you want to make your 50th milestone birthday celebration the most spectacular and unforgettable for everyone and check off your birthday bucket list, a luxury Costa Rica beachfront villa should be at the top of your bucket list!
If you're looking for a truly unique birthday vacation experience to celebrate your 50th, consider giving yourself the ultimate birthday present. Keep reading about why Costa Rica is a great vacation destination and the perfect place to celebrate!
Why Should I Consider Costa Rica For My 50th Birthday?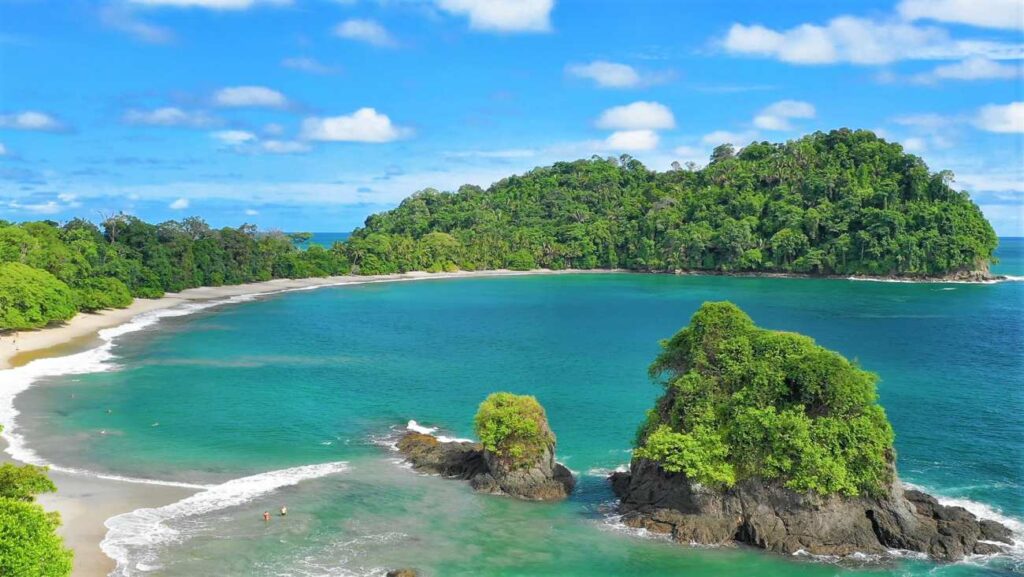 There are many reasons to consider Costa Rica for your 50th birthday. Whether you're searching for adventure, family-fun activities, great food, or luxurious vacation villas, you'll find that Costa Rica has everything you're looking for.
Costa Rica has always been a stunning country to take a vacation in with its lush rainforests, sandy beaches, waterfalls, and abundant wildlife. In recent years, it has become even more popular and known as an amazing vacation destination.
Costa Rica also has a hip, modern side. The capital of San José has become a hotspot for foodies and shopping. You will find many chic restaurants and bars there. The craft brewing industry has also become very popular in San José.
If you're just looking to relax during your birthday week, there's no better place than a pristine beach to take in the tropical vibes. You can work on your tan, get a massage, go swimming and surfing, have lunch and drinks served, or simply relax, all within a day at the beach.
Costa Rica Should Be at the Top of Your Birthday Trip Ideas List!
Considering that there are literally all sorts of activities for all ages, you might be overwhelmed with all the possibilities to choose from. Costa Rica is known for its thousands of miles of beautiful coastline and remarkable national parks. You won't only find abundant wildlife in Costa Rica's national parks, but literally everywhere.
Tourists can enjoy thrilling activities like white-water river rafting, parasailing, snorkeling, ATVs, surfing, zip lining, bird watching, and kayaking. Animal lovers will be in paradise as It's also one of the best places to discover wildlife like macaws, toucans, three-toed and two-toed sloths, titles, and three types of monkeys.
One of the most beautiful features of Costa Rica is its incredible biodiversity. The country is home to over 500,000 species, including rare and exotic animals like the jaguar, the sloth, and the toucan. Its forests are filled with towering trees and colorful flowers, and its waters are teeming with marine life.
Another striking aspect of Costa Rica's beauty is its stunning beaches. The country is home to some of the most stunning beaches in the world, with pristine white sands and crystal-clear waters. The beaches of Costa Rica are also great for surfing, with waves that attract surfers from all over the world.
In addition to its natural beauty, Costa Rica also has a rich cultural heritage. The country has a vibrant arts scene, with a rich tradition of music, dance, and art. Its people are known for their warm hospitality and laid-back lifestyle, making it a popular destination for travelers looking to experience the beauty, rich history, and culture of Central America.
Overall, Costa Rica is a true paradise, with its stunning natural beauty, rich biodiversity, and vibrant culture. It is a place where visitors can truly escape from the hustle and bustle of daily life and enjoy the beauty of the natural world.
What Costa Rica Has To Offer
Milestone birthday trips should be at a place that's close to your heart. When thinking about the best birthday celebration ideas, one thing to consider is the best places with natural beauty and biodiversity. Costa Rica is hands down your best choice in this category. This Central American country is home to an incredible array of plant and animal life, as well as mesmerizing landscapes ranging from spectacular coastlines, and cloud forests to volcanoes. Ecotourism is a big part of the Costa Rican economy.
Costa Rica is a nature lovers paradise. With its tropical climate, lush landscapes, and beautiful beaches. Your choices are unlimited during a week in Costa Rica, there are plenty of activities to keep everyone busy, including hiking to waterfalls, birdwatching, zip-lining through the jungle canopy, taking a sunset cruise, whitewater rafting, surfing, and more. And consider having some of the most gorgeous sunsets in the world.
Visitors of all ages will be enchanted by Costa Rica's natural wonders. And Costa Rica luxury villas offer the perfect blend of luxury and relaxation. With spectacular scenery and stunning views of the Pacific coastline.
Costa Rica is home to some of the most beautiful natural scenery in the world. The country's lush rainforests are teeming with wildlife, and its beaches are lined with palm trees and coral reefs.
Did we mention abundant wildlife? Costa Rica has more species of animals and plants than any other country in the world. In fact, it has so much biodiversity that Costa Rica has been nicknamed the "Crown Jewel of Central America." You are sure to see plenty of monkeys, sloths, toucans, and other exotic animals during your stay. 
Does Costa Rica Have Beautiful Beaches?
Costa Rica's beaches are among the most beautiful on Earth. The country's Pacific Coast is renowned for its stunning sunsets, while its Caribbean counterpart has a more relaxed atmosphere. Costa Rica has an impressive 800 miles of coastline and 300 sandy beaches, divided between its Pacific and Caribbean sides. "Costa Rica" means "Rich Coast," and once you see the country for yourself, you'll know why.
Some of the best beaches in Costa Rica are located in the beach towns of Manuel Antonio, Tamarindo, Santa Teresa, Nosara, Dominical, Manzanillo, Montezuma, and Puerto Viejo.
Why Celebrate Your 50th at a Costa Rica Beachfront Villa?
There are many reasons to vacation at a Costa Rica beachfront villa for your ultimate birthday trip. One of the most important reasons for renting Costa Rica beach house rentals is that you can enjoy complete privacy with your loved ones, compared to staying at luxury resorts. When you rent a beach house in Costa Rica, you and your group will have the entire house to yourselves so that you can relax and enjoy your vacation without worrying about being disturbed.
When you stay at a private beach villa, there is no need to worry about other guests in a resort being too loud or sharing common areas like the swimming pool. The only strangers you will see inside a luxury villa will be your onsite staff and private chef. The days of waking up early just to stake claim to a poolside lounge chair are gone!
You Will Find First-Class Accommodations and Amenities
Most large Costa Rica beach house rentals have luxurious accommodations, first-class services, and superior amenities, just like staying in a 5-star all-inclusive resort. Amenities such as air conditioning in all rooms, infinity-edge swimming pools, and large social entertainment areas.
From outstanding full-staffed services to luxurious amenities, after arriving, you'll soon realize that renting a beach house in Costa Rica for your birthday trip was one of the best decisions you ever made.
In most cases, beach house rentals in Costa Rica are within walking distance of a stunning tropical beach. Chances are the beach won't be nearly as crowded compared to a beach in front of a resort.
For example, when mentioning luxury vacation rentals, one such rental pops out above the rest, Vista Hermosa Estate is not only a large beach villa that can host a big family or group of friends, it has everything you could ever want in a beach rental for your dream vacation. This includes enough bedrooms to sleep 24 guests, an attentive, full staff including a gourmet private chef, a 10-15 minute walk to a phenomenal beach, a massive top-floor entertaining area including an infinity edge pool for everyone to congregate, and most importantly, a spectacular ocean view of the Pacific.
Make it a 50th Birthday Trip for Couples
Are you considering 50th birthday trip ideas for couples? Renting a beachfront villa in Costa Rica for you and your friends is a great idea!
Each couple can have their own bedroom with an ensuite bathroom. Everyone will love having a full staff that includes a private chef that will prepare succulent dishes daily.
Make it a couples' spa day and have your entire group receive spa treatments or hire a yoga instructor for a morning. On the night of your 50th birthday, hire a local band for some live music and dancing.
If you're not in the mood to vacation with kids, a couple's birthday trip is one of the best birthday getaway ideas and is a great way to spend quality time with your best friends.
A Multi-Family Vacation or Multigeneration Family Vacation
Another great option for birthday ideas is to go on a multi-family vacation for your 50th birthday. During a 50th birthday vacation with multiple families or your own multigeneration family, not only will you get to enjoy the company of your loved ones, but you'll also get to make memories that will last a lifetime with family members. 
Or Maybe its Time to Plan Your 40th Birthday Trip
If you're looking for the ultimate 50th birthday getaway ideas, consider a trip to a beautiful beachfront villa in Costa Rica. Not only is Costa Rica the perfect destination for 40th birthday travel ideas with family, but it's also a great option for a romantic 40th birthday trip ideas for couples.
From fun activities like zip lining and surfing to relaxing on the white sand beaches, there's something for everyone in Costa Rica. And if you're feeling adventurous, you can even take a road trip or day trip to explore the stunning natural beauty of this Central American country. No matter how you choose to celebrate, you should consider a beachfront villa in Costa Rica for 40th birthday trip ideas.
A Great Choice for A 50th Anniversary Vacation with Loved Ones
Is your parent's 50th anniversary approaching, what about 50th anniversary trip ideas? Celebrate your parents' golden anniversary in unforgettable style! Imagine an unforgettable 50th anniversary trip for your entire multi-generational family. Have you started dreaming up exciting trip ideas for your entire multigeneration family yet?
Escape to a tropical oasis where your family can vacation in total privacy, surrounded by breathtaking beauty. Envision yourselves lounging in a luxurious beach villa, free from the crowds and unfamiliar faces of a resort. Embrace the all-ages appeal of Costa Rica, where the lush landscapes and endless adventures create the perfect backdrop for a family getaway unlike any other.
Fully Staffed Costa Rica Villas Are Really The Only Way To Go
Are you looking for a beach house in Costa Rica that's truly a cut above the rest? Few pleasures in life compare to the feeling of renting a fully staffed luxury villa. Knowing that all your cleaning, laundry, meals, and more will be attended to by a gracious staff is one of the best ways to return to your villa after a full day of outdoor activities.
The last thing you want anyone to do while in paradise is to be responsible for cleaning, cooking, or doing laundry. Spend more time enjoying paradise and less time doing the things you do while at home.
For your 50th birthday trip, you can't go wrong in choosing one of the many Costa Rica luxury villas but the only way to ensure you and your group will have one of the best experiences you'll ever have with all the comforts of a 5-star resort is to stay at a fully staffed villa.
The fully staffed vacation villa difference is clear. From gourmet chef-prepared meals to daily housekeeping, concierge services, laundry services, onsite maintenance staff, gardeners, and beyond, a fully staffed villa is a must if you are truly looking for the birthday vacation of a lifetime.
Why having your Very Own Private Gourmet Chef is important
If you're going to go all out for your 50th, then you definitely want your group to experience fine dining and be served delicious meals by a gourmet chef during your stay at one of the many 5-star luxury vacation rentals in Costa Rica. Having your own personal chef allows you and your entire group to sit back and relax while someone else cooks delicious food for you.
Costa Rica villas that include a private chef will serve a wide variety of delicious meals. From fresh seafood to Costa Rican cuisine, or something else entirely, your private chef will prepare some of the best elaborate dishes everyone will love. By having a chef do your grocery shopping and cooking, you can spend your vacation how you want, whether that means relaxing or exploring. Since they'll be using the freshest, local ingredients, you're sure to enjoy some of the best meals you ever tasted.
Another great point about personal chefs is they can cater to anyone with food allergies and also make special dishes for vegans & vegetarians.
A Personal Concierge Will Make Your Stay Smooth And Trouble Free
There are so many great reasons to have a concierge during your beach vacation for your 50th birthday! They can help you with everything from booking activities and making restaurant reservations to getting you the best rates on transportation and tickets. Plus, they often have great insider knowledge about the area that can help you make the most of your trip.
They will know all the best reputable tour companies, fine restaurants, and the best beaches, and can help you avoid any tourist traps. Having a concierge is like having your own personal assistant during your vacation at Costa Rica villas. They make everything run smoothly so you can relax and enjoy yourself!
A concierge can also be a lifesaver if you need anything while vacationing at one of the many Costa Rica luxury villas, as they will always be there to help you out during any sticky situation. So, if you're looking for a hassle-free beach vacation, be sure to ask about concierge services when booking your trip!
Once You Found A Beachfront Villa In Costa Rica - Don't Wait!
You found the perfect vacation rental to celebrate your birthday week. Large enough to host your large family and friends. The beach villa you found has all the services and amenities you were searching for…a perfect fit right? Except for one very important matter, your travel dates. You only turn 50 once, which means you can only celebrate your birthday during a specific week of a particular year. To your dismay, the Costa Rica luxury vacation rental you found that was perfect for your birthday week is already booked 😞.
What could you have done to avoid this? Two words – BOOK YOUR TRIP EARLY! After you've decided that you want to celebrate your 50th in grand style, don't hesitate to search and book that consummate private Costa Rica beach villa otherwise, you will probably be disappointed.
Still Undecided About How To Celebrate Your 50th?
Imagine all the wonderful memories everyone will have on a multigenerational family vacation or with a large group of close friends. Loving memories of a lifetime for sure!
Not just any luxury vacation rental, but one where your family and friends can be in their own space without having to share with strangers, just like you would experience staying at a private villa. If you love tropical beaches, a beachfront villa will narrow down your choices. A beach villa in Costa Rica will have everything you're looking for, and more.
Calling all soon to be 50-year-olds, this is your year to shine! Make your birthday extra special by surrounding yourself with the people you love most for a week of Tropical Bliss at a luxury vacation rental.
Your 50th birthday is a major milestone and is the perfect reason to go on a tropical vacation with the ones you care about the most. Whether you're looking for a quiet retreat or an action-packed vacation, Costa Rica vacation rentals are one of the best birthday ideas you can give yourself for your 50th birthday celebration. So start planning your dream trip today!
As you start thinking of your birthday vacation ideas, luxury villas Costa Rica are the perfect place to celebrate 50th milestone birthdays! With beautiful views of the ocean, stunning sunsets, and plenty of activities to keep you busy, Costa Rica is the perfect destination for a fabulous 50th birthday vacation with close family and friends.
You only turn 50 once. Filtering through all the possibilities for your 50th birthday destinations is a task, finalizing the location to celebrate this milestone birthday is literally the most important decision you'll make for your big day. You Just found the best 50th birthday trip idea now is the time to celebrate it in the best way possible and create unforgettable memories.
Don't just consider 50th birthday weekend getaway, the ultimate 50th birthday trip idea is at least a week in a tropical paradise. Costa Rica villas offer something for everyone, whether you're looking for relaxation or adventure. So what are you waiting for? Blow out the candles on your birthday cake in paradise and book a Costa Rica beachfront villa today!