Beach Town of Manuel Antonio Costa Rica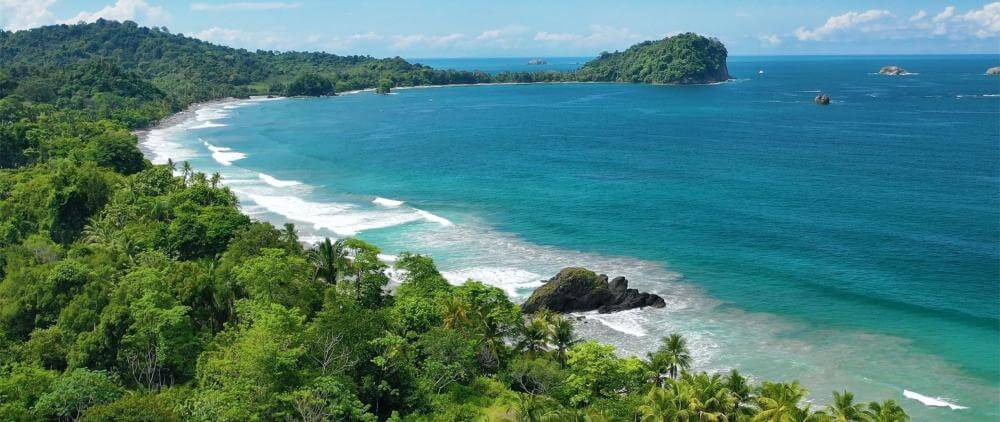 Welcome to Manuel Antonio located on Costa Rica's Pacific coast. Manuel Antonio is one of the most popular tourist destinations in Central America. This beautiful region is full of amazing scenery and wildlife. Situated on rolling hills, drawing tourists to its breathtaking views of the Pacific Ocean, surrounding lush tropical jungle, fabulous beaches, wildlife, parasailing, and surfing… to plenty of restaurants, nightlife, sport-fishing, and a beautiful national park.
Also, Manuel Antonio Costa Rica is centrally located for all the best tours and excursions this beautiful country has to offer. From surfing, and hiking to waterfalls, kayaking, zip-lining, bird watching, or going on full-day excursions, this destination offers many things to do for all types of visitors. Whether you are looking for outdoor activities or relaxing on a beach, you will find something that interests you in no time.
This wonderful town is home to many beaches such as Playa Espadilla a.k.a Playitas, Playa Biesanz, Playa Espadilla Sur, and Playa Manuel Antonio. Home to many of the best beaches in Costa Rica.
This wonderful beach town is also home to the world-renowned Manuel Antonio National Park which is a popular tourist attraction in Costa Rica. Tourists come from all over the world to enjoy its pristine beaches, national parks, and waterfalls and is filled with hiking trails. This park is home to approximately 500 different species of plants and animals.
The park was designed to showcase Costa Rica's diverse natural beauty with lush rain forests, a variety of birds and animals, beautiful lakes, waterfalls, and rivers, etc. You can also find many experienced guides that will point out all the wildlife that lives in Manuel Antonio National Park
The crown jewel of Manuel Antonio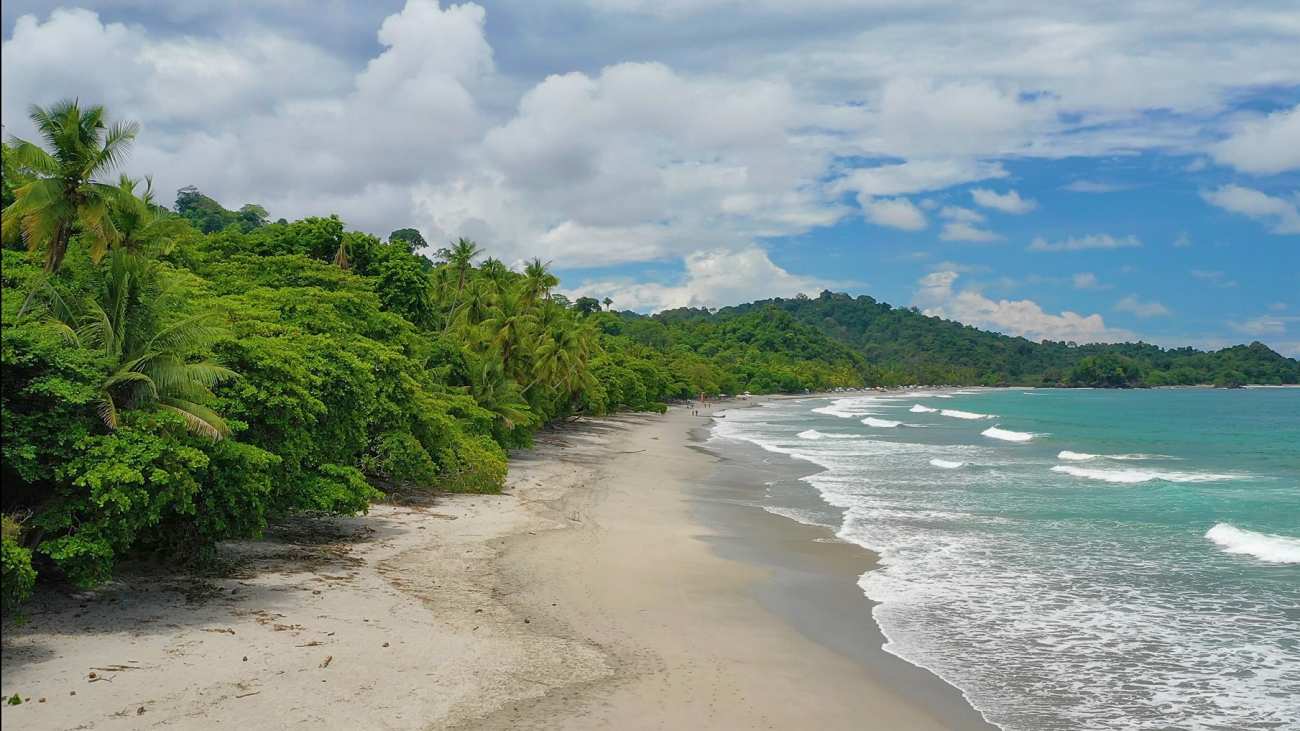 Is it beach time! constantly voted one of the most beautiful beaches in the world, Playa Espadilla Norte, also known as Playitas Beach is the main beach and the most popular beach in Manuel Antonio, is located adjacent to Manuel Antonio National Park.
A beautiful white sand beach with palm trees as a backdrop that stretches out over a mile along the coastline, with a lush tropical background and an easy-to-access public beach. While the warm waves are wild enough for surfing, they are also calm enough to enjoy a good swim. On the sand, visitors can rent chairs and umbrellas.
Sunsets over the water are nothing short of absolutely stunning. Voted #17 of the best beaches in the world according to Trip Advisor users. A beautiful beach like no other has to be considered one of the best beaches in Manuel Antonio Costa Rica, a true tropical paradise.
One of the only Manuel Antonio beaches with these amenities,  you will be able to rent chairs and umbrellas up and down this beach. this beach is family friendly and can be enjoyed by all ages including young kids.
TripAdvisor's Travelers' Choice.
One of the key features of Vista Hermosa Estate is its private beach trail to Playa Espadilla.
Located within Manuel Antonio National Park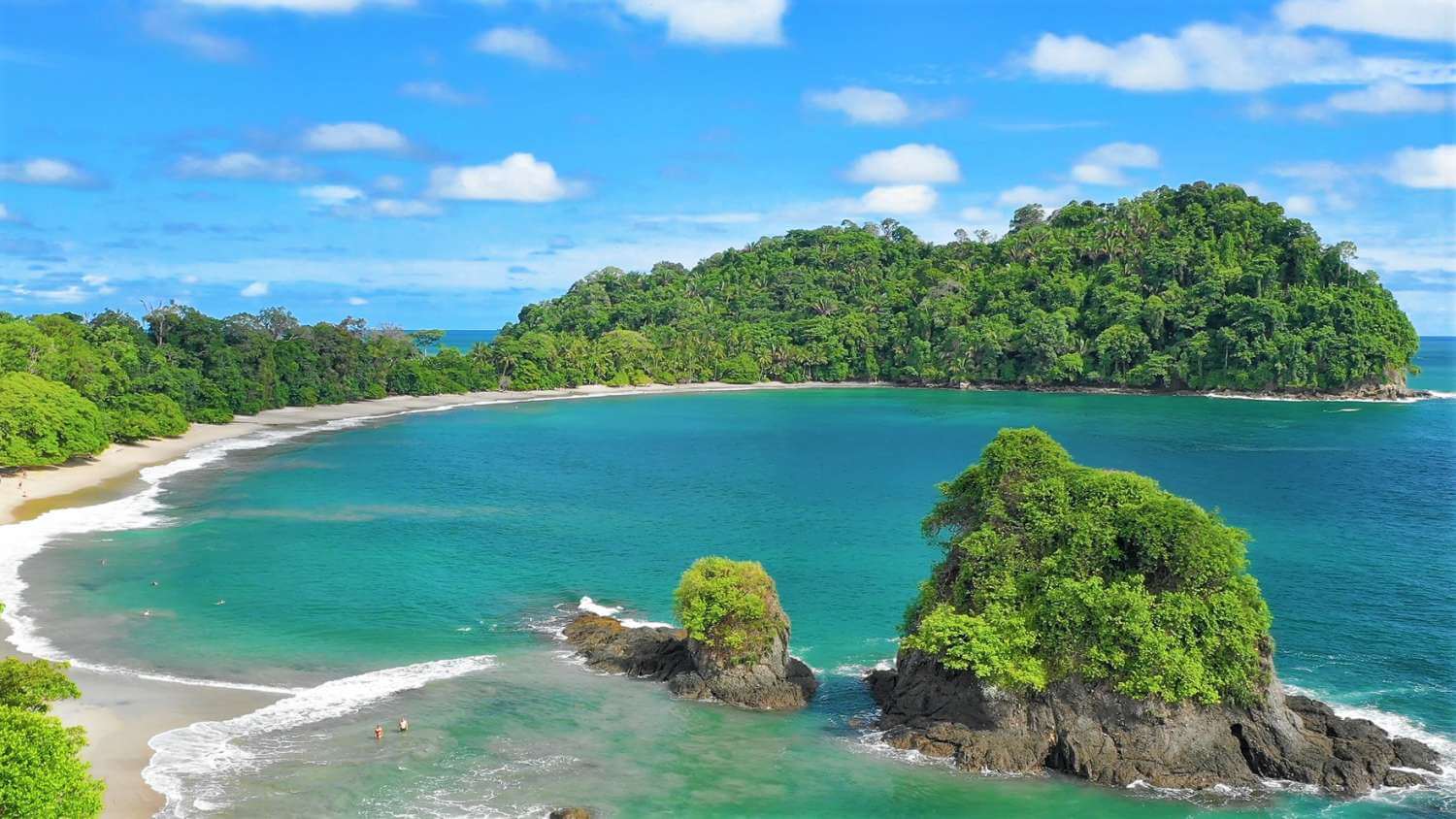 As the name suggests, Playa Espadilla Sur is south of Playa Espadilla but located within Manuel Antonio National Park. It is also known as Playa Dos or Playa Segunda. A picturesque crescent shaped beach only separated from Playa Manuel Antonio by a land bridge that connects to Punta Catedral, the iconic point of Manuel Antonio. this stunning beach is located near the national park entrance and ends at nearby Punta Quepos.
Also within Manuel Antonio National Park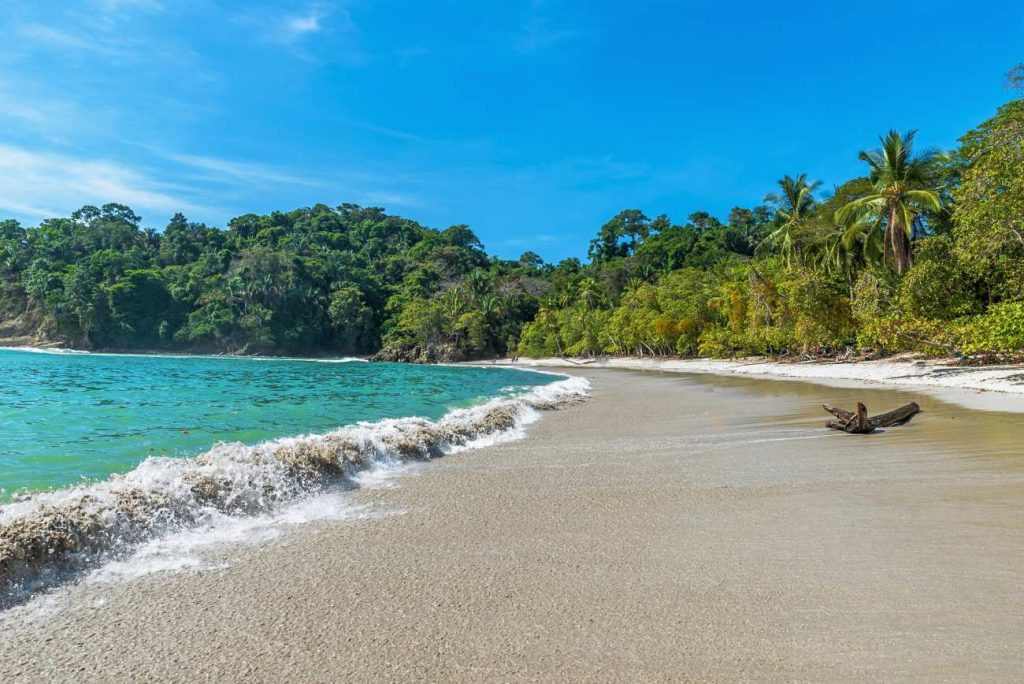 Playa Manuel Antonio beach is located within the national park and is back-to-back from Playa Espadilla Sur, only separated by a land bridge. With golden sand, Manuel Antonio Beach is always rated as one of the most beautiful beaches of all Manuel Antonio beaches, Playa Manuel Antonio is a half-mile long and boasts white sand and a lush tropical surround. Be sure to allow extra time to enjoy this stunning beach while visiting the National Park.
Only accessible by a trail with calm waters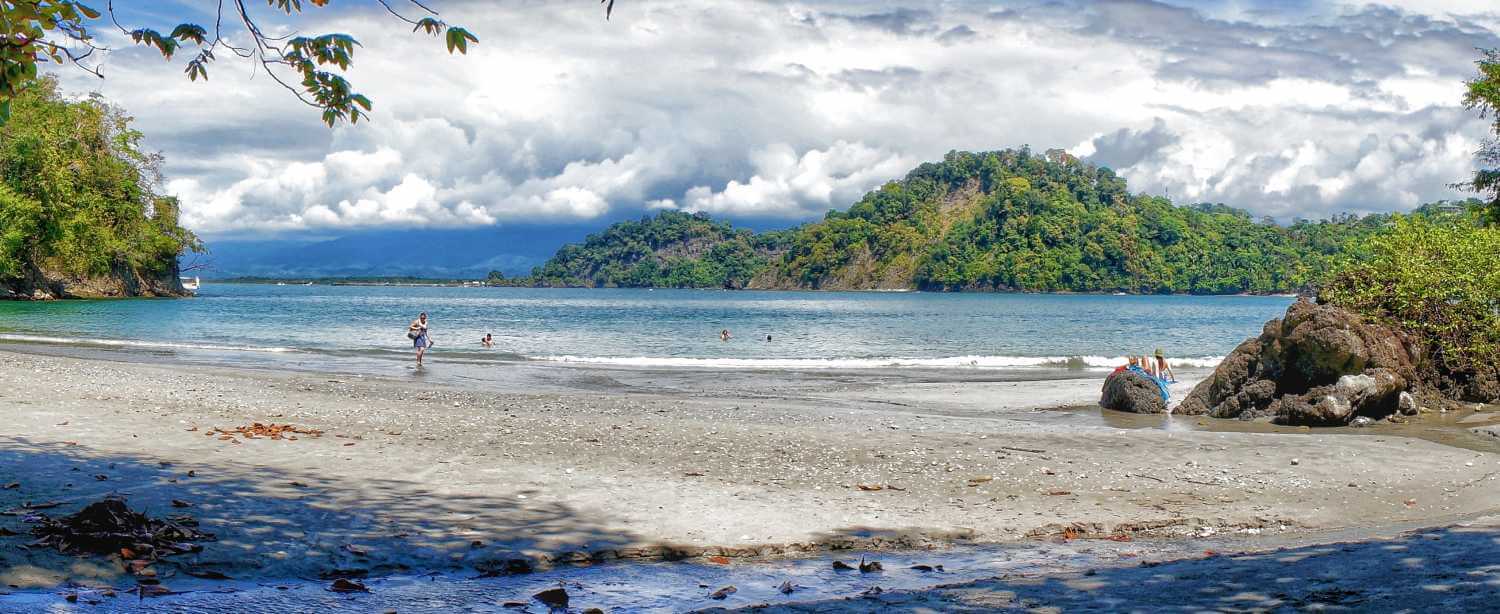 Playa Biesanz considered a secret beach, solitary location covered by dense green tropical forest. This secluded beach lies at the end of a 10-minute walk jungle trail where you have a perfect opportunity to spot monkeys, sloths, lizards, snakes, and birds. While the beach is very remote and less popular amongst surfers, it is the perfect location for those looking to escape the crowds and enjoy a quiet Costa Rica beach and the serene, calm water. Great beach for young kids. A true hidden gem.
Located within the resort of Arenas Del Mar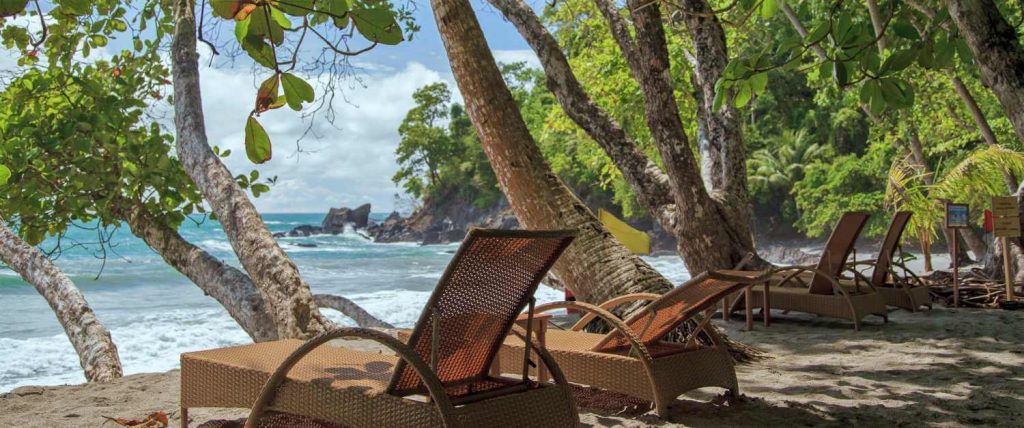 This beach is also home to Arenas Del Mar's popular beach restaurant, Playitas Restaurant & Bar.
A small but gorgeous beach, you are sure to enjoy its top-notch services, including the delicious cuisine – while your toes are in the sand or simply relaxing in a lounge chair as your drinks are being served. Vista Hermosa Estate has established an exclusive partnership with Arenas Del Mar where our guests who stay at our luxury villa can utilize their private beach, while also enjoying beachfront lunch and drinks (with a 20% discount on all purchases).
Arenas Del Mar will even send golf carts to the Villa to pick up our guests so no walking is involved. It is only a 5-minute walk if you decide to do so.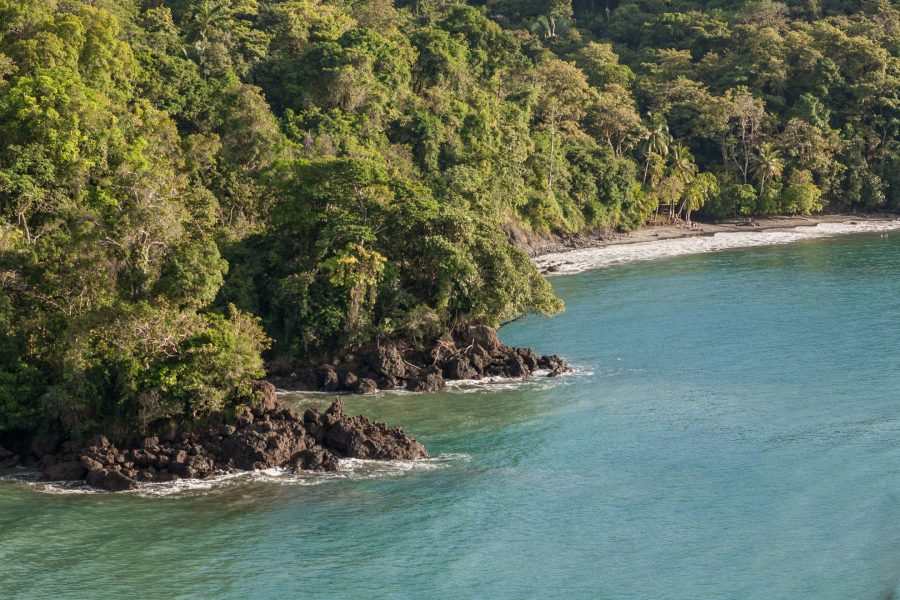 Playa La Macha is the most hidden of all Manuel Antonio beaches, much more secluded than Playa Biesanz. This is the ideal beach if you feel like going for a hike and ending it at a beautiful beach.
Because Playa La Macha is secluded, you can enjoy some solitude while you sunbathe with a tropical backdrop. The hiking trail to Playa La Macha can be a bit difficult to trek but it is well worth the effort as you will have your own private beach to enjoy.
This hidden beach is also known as Doctor's Beach, a remote and tropical getaway, you won't find a more secluded beach in Manuel Antonio. Because this beach is such a secluded spot, you will find more wildlife ventures close to the coast.
Villa Rental in Costa Rica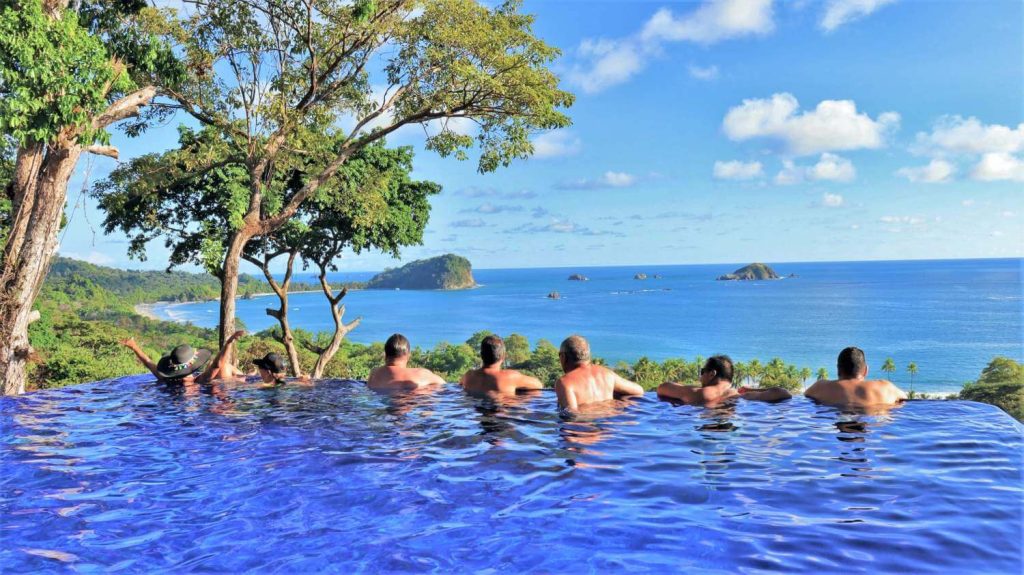 If you're looking into renting a villa in Costa Rica, why not choose the ultimate luxury beach rental in Costa Rica?
Vista Hermosa Estate, is a phenomenal luxury villa with the best ocean views in Manuel Antonio and spacious rooms, overlooking Playa Espadilla, Vista Hermosa Estate is the ultimate vacation villa to enjoy all the best beaches in Manuel Antonio.
This beach villa is fully staffed and includes a private chef who will prepare two meals per day. also included are two full time maids and a personal concierge.
Vista Hermosa Estate is also within walking distance to Playa Espadilla Norte, also known as Playitas Beach, the best beach in Manuel Antonio.  Guests can utilize our private beach trail which is a 10-15 minute walk to a beautiful white sand beach.
Ideal for large groups, it's the perfect beachfront villa in Manuel Antonio for multi-families, milestone birthdays, multi-generation families, couples retreats, and weddings.
Contact Vista Hermosa Estate today and secure your preferred dates for a stay in Manuel Antonio's #1 Costa Rica luxury villa.