Located On The North End of Playa Espadilla

About Playita Manuel Antonio
Welcome to Playa Playitas Manuel Antonio, a breathtaking expanse located in the picturesque beach town of Manuel Antonio, Costa Rica. Celebrated as one of the finest beaches in Manuel Antonio, Playitas beach stands as a testament to the area's unspoiled charm. For those seeking to bypass the hustle of Manuel Antonio's more frequented beaches, Playitas offers a serene haven with its pristine sand and clear waters.
Nestled between Playa Espadilla and the luxurious Arenas Del Mar hotel, Playitas Manuel Antonio extends as a continuation from the southern end of Playa Espadilla and seamlessly flows into the bounds of Arenas Del Mar. This positioning offers visitors a unique experience of both the vibrant Espadilla atmosphere and the seclusion of a more private beach.
While it remains less explored compared to its neighboring beaches, its tranquility is its ultimate allure. Those who wander to Playitas Manuel Antonio are met with a calm retreat, away from the lively crowds of Playa Espadilla.
Additionally, its proximity to the opulent Arenas Del Mar hotel provides visitors with breathtaking vistas of the Pacific Ocean, complemented by the backdrop of the verdant rainforest.
Come and discover Playitas Manuel Antonio beach, a hidden jewel of the Manuel Antonio region. It is not just a beach; it's an invitation to experience the harmonious blend of relaxation and Costa Rican natural splendor.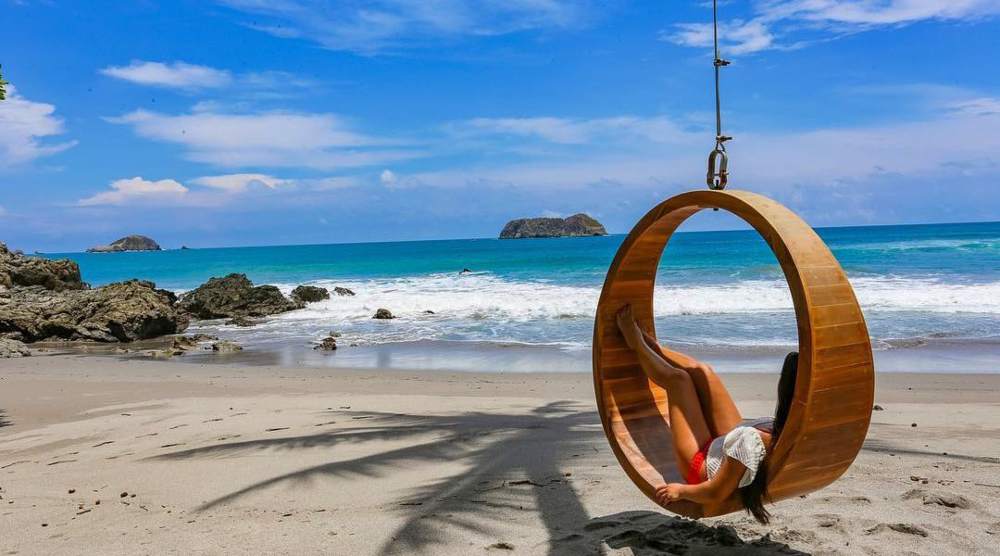 About Arenas del Mar Beachfront and Rainforest Resort
Located directly on Playitas beach in Manuel Antonio, Arenas del Mar Beachfront & Rainforest Resort is a luxurious eco-friendly hotel nestled in the lush rainforests of Manuel Antonio, Costa Rica. Known as one of the few 5-star resorts in Manuel Antonio, this resort offers an exceptional and unparalleled escape that combines sustainable living with high-end amenities.
Nestled in the heart of Manuel Antonio, Arenas Del Mar Beachfront & Rainforest Resort stands out from the other resorts in Costa Rica with its prime location, offering direct access to not one, but two stunning beaches – Playitas Beach and Espadilla Beach. The resort allows easy access to both beaches, creating the ultimate tropical experience for all guests. Surfing lessons are available at the entrance to Espadilla Beach, while the Playitas Beach location boasts a beachside restaurant offering delicious cuisine.
Arenas del Mar has won numerous awards for its sustainability practices, including the Rainforest Alliance Sustainable Tourism Certification and the TripAdvisor GreenLeader Gold certification.
The hotel features two on-site restaurants, one of which specializes in farm-to-table cuisine using organic, locally-sourced ingredients.
The first restaurant, named "Playitas Restaurant," offers a stunning oceanfront location where you can enjoy delicious meals while relaxing on a lounge chair gazing out at the magnificent Pacific Ocean. The chefs use fresh, local ingredients to prepare the dishes, which include a mix of international and Costa Rican cuisine. The menu features an extensive selection of seafood dishes, as well as meat and vegetarian options. The restaurant also offers a gluten-free menu, making it a great choice for those with dietary restrictions.
The second restaurant, called "El Mirador," offers fine dining with a breathtaking panoramic view of the ocean and rainforest. The restaurant offers an a la carte menu featuring a fusion of Mediterranean and Costa Rican flavors. The chefs at El Mirador use locally sourced ingredients, including fresh seafood and organic produce, to create innovative and delicious dishes. El Mirador is an ideal place for a romantic dinner or special occasion.
At Arenas del Mar, visitors can enjoy stunning ocean views from their private balconies, go swimming in one of their two swimming pools, or enjoy a beach day in front of Playitas Restaurant. Not only does the resort boast a beautiful infinity pool that overlooks the Pacific Ocean, but also includes a world-class spa and wellness center.
Arenas del Mar is not only a destination enjoy nature and luxury, but also an eco-adventure haven. The hotel is located near Manuel Antonio National Park, where guests can enjoy an abundance of outdoor activities such as hiking, kayaking, zip-lining.
The resort also has a strong commitment to sustainability and conservation, with initiatives such as on-site composting and recycling, as well as using local and organic products in their restaurants.
Arenas del Mar offers a one-of-a-kind experience in Manuel Antonio that seamlessly blends luxury accommodations, 5-star amenities, and sustainability while immersing guests in the natural beauty of the Manuel Antonio region.
Vista Hermosa Estate Has an Exclusive Partnership with Arenas Del Mar
Experience the ultimate beach getaway during your stay at Vista Hermosa Estate in Costa Rica. As part of our exclusive partnership with Arenas Del Mar, our guests have special access to their private beach where they can soak up the sun, take a dip in the crystal-clear waters, and enjoy stunning views of Playitas Beach.
But that's not all. As part of this unique collaboration, our guests can also indulge in delectable beachfront lunch and drinks at Arenas Del Mar's two top-rated restaurants. With a 20% discount on all purchases, you can savor the freshest and most delicious food while enjoying the gorgeous scenery.
For ultimate convenience, golf cart drivers will even come to Vista Hermosa Estate to pick you up, so you don't have to worry about walking to the beach. However, if you decide to take a leisurely stroll, Playita beach is only a 5-minute walk from our property.
So during your visit to Manuel Antonio, don't miss this incredible opportunity to sunbathe, indulge in delicious food, and enjoy exclusive access to one of the most beautiful beaches in the region. Join us at Vista Hermosa Estate and experience the ultimate beach vacation that you've been dreaming of.
Things to Do at Playa Playitas Beach
The name Playita translates to small beach. Just because Playa Playitas Beach is small, a bit smaller than Playa Biesanz, it doesn't mean you won't enjoy a fantastic beach day. The great thing Playita is less crowded compared to Playa Biesanz beach. Also, it just happens to be the most popular surf spot in Manuel Antonio, Costa Rica. Located just steps away from Vista Hermosa Estate, this beach offers a variety of activities for travelers seeking fun in the sun.
Surfing is the top activity here with the waves and warm waters providing the ideal conditions for catching some waves. If surfing is not your thing, you can still go for a swim, enjoy the amazing scenery, or just watch the surfers ride the waves while soaking up some sunrays while lounging on the beach's warm sand.
With the convenience of Playitas Restaurant located on this beach, travelers can enjoy delicious tropical drinks, snacks, and dishes severed to satisfy your hunger during your beach day. Take a break from the sunshine and relax in the shade while enjoying some of the best food in the region.
If you're staying at Vista Hermosa Estate and its close proximity, you have easy access to the beach without having to travel a long distance.
So come visit Playa Playitas Beach, and encounter the perfect combination of sun, sand, waves, food, and fun that awaits you.
What Wildlife and Nature Will I Encounter?
As you soak up the sun and waves at Playa Playitas beach, be sure to take a moment to appreciate the breathtaking landscapes and wildlife surrounding you. From iguanas sunbathing on the sand to two-toed and three-toed sloths lazily hanging from the trees, the beach is full of hermit crabs and many other creatures. Keep your eyes peeled and look up in the trees to catch a glimpse of the playful monkeys jumping from branch to branch. White-faced monkeys (capuchin), howler monkeys, and squirrel monkeys are among the species you may see.
Although you may not be able to spot howler monkeys during your visit, their presence is unmistakable as they are among the loudest creatures on the planet. Their distinctive roars can be heard up to three miles away in the dense forest, adding to the excitement and allure of the surrounding wildlife. Don't forget to look out for toucans and macaws, too.
Whether you're an animal lover or just looking to relax in a gorgeous natural setting, Playa Playitas beach is a great place to spend a day ecountering the beauty of Costa Rica.
Manuel Antonio, with its many stunning beaches, has become a top destination for vacationers seeking the ultimate beach experience. Among the picturesque shorelines that dot the region, Playitas Beach stands out as one of the best, an essential beach to relish on your next visit to Manuel Antonio.
Playitas Beach in Manuel Antonio is a hidden gem that you won't want to miss during your stay in Costa Rica. With its tranquil location and stunning vistas, Playitas beach offers an ideal spot to unwind and bask in the warm sun, all while relishing scrumptious cuisine and refreshing drinks. Plus, with its proximity to the main beach and other popular attractions in Manuel Antonio, it's easy to access and explore. For those staying at a nearby hotel, resort, or villa like Arenas Del Mar or Vista Hermosa Estate, Playita Beach in Manuel Antonio is just a short walk away. It's no wonder why this beach has become so popular among tourists who visit Manuel Antonio. So don't miss out on this amazing beach and make sure to add Playitas Beach to your list of must-visit locations during your trip to Manuel Antonio.