A Beach and Nature Lovers Paradise in Manuel Antonio

Manuel Antonio, Costa Rica​

Playa Biesanz in Manuel Antonio, Costa Rica is an absolute paradise for beach and nature lovers. Located a couple of hours from San José, this serene and secluded beach is a perfect escape from the other crowded beaches in the area, and the lush rainforest surrounding the area adds to the natural beauty of the place.
Considered one of the best beaches in Manuel Antonio, this beautiful beach is about a 20-minute walk from Vista Hermosa Estate. Playa Biesanz is off the beaten path and secluded. It lies at the end of a jungle trail that starts by the side of the road. The trail down to Biesanz is a great site to test your senses while spotting wildlife; the trail has a few clearings between hillsides that allow for great wildlife spotting opportunities. You'll have an excellent opportunity to spot howler monkeys, squirrel monkeys, and sloths. 
Compared to Playitas Beach, Biesanz is a little larger than but still maintains its quiet ambiance just like Playitas Beach. The shoreline offers a relaxing atmosphere, making it an ideal destination for anyone seeking some peace and tranquility. And when its matched up against the bustling Espadilla beach, the differences are like night and day.
In addition to its natural beauty, it also provides a habitat for a wide range of wildlife, making it a popular location for nature enthusiasts. With its white sands and calm peaceful water, it's golden sand is a great place to simply relax. Whether you want to spend a lazy day at the beach or explore the lush rainforest, Playa Biesanz is an excellent destination for anyone looking to get away from it all and connect with nature.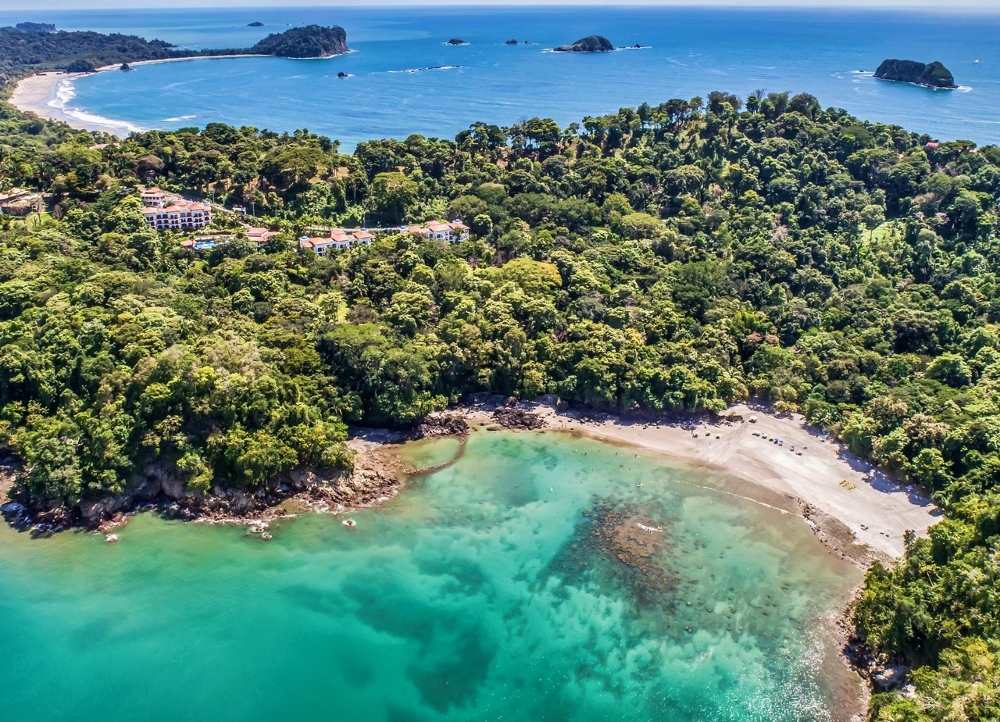 Discover the Tranquility of Biesanz Beach in Manuel Antonio
If you're looking for a quiet beach in Manuel Antonio, look no further than Biesanz Beach. Located near the Shana By The Beach Resort, this peaceful cove is the ultimate setting for a day trip to take in the scenery and soak up the sun.
Compared to other beaches in the area, Playa Biesanz boasts calm waters, making it an optimal spot for families with young children. The waves are gentle, so you can swim or simply lounge by the bay and enjoy a tropical drink.
Surrounded by rocky cliffs, Playa Biesanz is well known beach for its natural beauty. Umbrellas are available for rent, so you can chill out in the shade and enjoy the view. The area provides access to several hiking trails, making it an excellent place to start your adventure.
For those who prefer an early start, Biesanz is an amazing tranquil site in the morning. Whether you want to spend a relaxing day at the beach or explore the nearby hiking trails, Biesanz is that amazing place.
Why Biesanz Beach Is a Breathtaking Destination for Nature Enthusiasts
Nature enthusiasts will find that Playa Biesanz in Manuel Antonio is an absolute paradise. Playa Biesanz is a small, remote beach that's a fabulous location for those who love to hike and explore the natural surroundings.
Walking towards the entrance of the beach, you'll find yourself surrounded by trees and lush greenery. It's an awesome area to discover the local flora and fauna. Looking up in the trees as you walk, you might even catch a glimpse of some of the same wildlife found in Manuel Antonio National Park including white face and howler monkeys, sloths, toucans, and macaws that call this area home.
If you're looking to spend some time in nature, the Biesanz area is the perfect destination. Take a hike and explore the area and find hidden gems that you won't find anywhere else. Whether you're a seasoned nature enthusiast or just looking for a relaxing time in the great outdoors, Playa Biesanz is an excellent choice for your next adventure.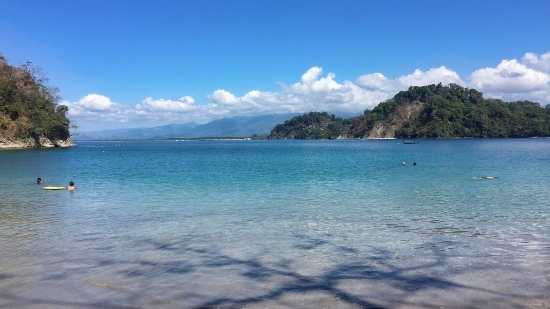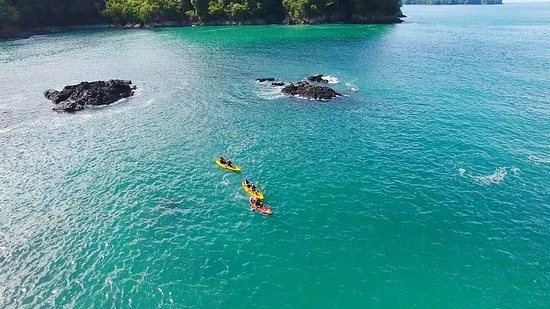 Things to Do at Playa Biesanz Manuel Antonio
Playa Biesanz in Manuel Antonio is a beautiful location that offers a wide variety of activities for travelers. Whether you're visiting with family or looking for a solo adventure, you're sure to find something to keep you busy.
One of the best ways to enjoy the beach is to rent kayaks, beach chairs, and umbrellas from a vendor. To be safe, make sure to check the tide before you head out on a kayak. Vendors will also sell food, snacks, and drinks, but don't expect to buy food with a credit card from vendors, so sure to bring some cash. Prices vary depending on the season. 
For ocean lovers, consider taking a boat tour from Marina Pez Vela in Quepos. These tours will offer a boat ride down the coastline where you can to explore the coast, fish, swim, or just sit back and enjoy the scenery. If you're looking for something a little more adventurous and for those who love snorkeling, there are plenty of snorkel tours available out of Marina Pez Vela, some of which include lunch. You can also bring your own gear and explore the coastline on your own.
Because of it's calm waters, Biesanz is an excellent bay to float on tubes. Vendors won't have any available for rent but you can always bring your own. Same thing goes for snorkel gear, just bring your own. And of course with its calm water, its a fantastic place for kids to swimming.
If you're feeling adventurous and want to test your hiking prowess, the Reto Mae trail is waiting for you! You can start from Playa Biesanz and embark on this challenging trail, but be warned, this is no leisurely stroll in the park. Be prepared to face a tough hike that will put your endurance to the test. You'll encounter other beautiful beaches along the way including Playa Sonia, Playa Mónaco, Playa Tulemar, Playa La Vaca, Playa La Macha, and Playa La Paipa.
Don't forget to bring sunscreen and stay hydrated with plenty of water. And for the adults, vendors will sell beer or other drinks as you take part in the various activities. Whether you're looking for relaxation or adventure, Playa Biesanz in Manuel Antonio is a beautiful location that offers plenty of activities for everyone.
How to Get to Playa Biesanz
If you are renting a car, getting to Playa Biesanz in Costa Rica is relatively easy, but there are a few things you need to keep in mind. From the main road in Manuel Antonio, go west on Calle Mariposa. That road will turn into Ruta Punta Quepos road. As you head towards Biesanz, you'll pass several hotels and good restaurants along the way. Look for a marked trail entrance just passed Shana By The Beach Resort on the right side of the street. The only parking available is street parking. If you end up at Parador Resort & Spa Manuel Antonio, you've gone too far.
Alternatively, you can simply take a taxi to Biesanz Beach. During the busy season, taxis are typically waiting in the street to return visitors to their hotels.
Once You Arrive, How to Access Biesanz
Once you arrive at Playa Biesanz and have parked your vehicle, accessing the beach is a breeze. From the trail entrance, simply follow the path to the beach. It's an easy walk that even families with young children can manage.
The lush rainforest that surrounds the trail is home to a diverse range of wildlife, including monkeys, sloths, and tropical birds, so make sure to keep your eyes peeled as you make your way to the beach.
As you arrive at this quiet beach, you'll find that the path leads directly to the soft sands of the shore. With clear warm waters and a serene atmosphere, Playa Biesanz is the perfect spot to relax and unwind. 
Biesanz Beach, a Hidden Beach That's Worth a Visit
If you're planning a trip to Costa Rica, make sure to add Manuel Antonio to your list of must-visit destinations. This wonderful beach town, located on the Pacific side of Costa Rica, is renowned for its breathtaking beaches and the famous Manuel Antonio National Park. Sure, Manuel Antonio has a plethora of beautiful beaches including the renown Playa Espadilla and all the stunning beaches inside Manuel Antonio National Park, but Biesanz is definitely one you won't want to miss.
With its pristine waters, lush surroundings, and serene ambiance, Playa Biesanz is a sensational location for a gorgeous beach day. Whether you want to soak up the sun or explore the natural beauty of the area, this shoreline is an excellent destination for anyone looking for a peaceful and picturesque getaway.
From the world-famous Manuel Antonio National Park to the beautiful beaches that surround the town, Manuel Antonio is an ideal location for those who love to experience the best that nature has to offer. So pack your bags and get ready for the trip of your life and experience the beauty of Costa Rica in one of its most stunning locations!